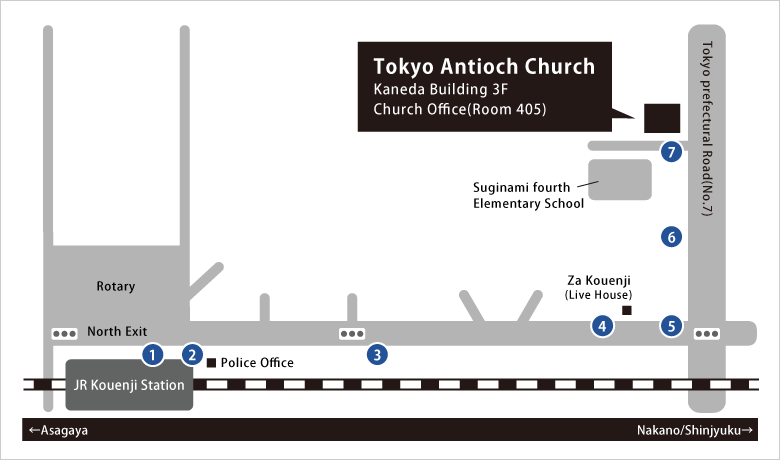 We guide the way up to
the synagogues videos from Koenji⇒ ⇒
JR Sobu-Line, 10 minutes walk
from North Exit at Koenji Station.
Third floor, Kaneda building, 2-15-1
Kouenji-kita Suginami-ku, Tokyo
Room 405, Church Office
Call:03-5327-5612 FAX:03-5373-1970
②Koenji Station North Exit 2 In front of Police Station

The north exit and turn right, you will see the police station on your right.
The left, before the crosswalk, and Lawson.

Alternating right and left hand crosswalk, looking at the Lawson
Go straight line along the road east out of the north entrance station.
③The north exit,along the line

Straight line along the road east out of the north exit of Koenji station, go.
FamilyMart to the right you will find along the way.
⑤Turn left at the intersection

Za · Kouenji" from the straight and even, running in front of the intersection.
Run into this intersection.

Turn left and go straight to cross the pedestrian crossing this intersection.
⑥Bus station

You will see a bus stop along the road to the north.

Go straight and continues, you will see the"Kuroneko Yamato" to the left.
The following buildings next to the church here.