The Light of Eternal Agape is a church which uses media!
■We broadcast Sunday services and gospels in real time every week.
In the early morning service 7:00 - 8:00
Sunday First service 11:20 - 12:30
Sunday Second service 11:20 - 12:30
Sunday Third service 12:10 - 13:30
Gospel Live TV 18:15 - 18:45
Sunday Seventh servicep 19:00 - 21:00
Tokyo Charismatic meeting 19:00 - 21:00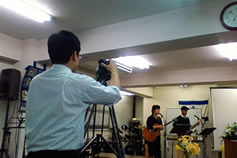 And also, with medias like the newspapers, publications, and the movie productions.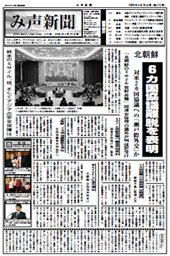 We are running "The Mikoe Press," which inform articles about the end times.
*faith pages, evangelical pages, international pages, social pages, family pages, sport pages, movie essay, church informations with.
*serials
"Pastor's leisure Diary"
"Towards the end times," "Bible"
"The Approaching Great Earthquake in Tokyo "
"From Zambia Orphanage"
"News from Cambodia Orphanage"
"IT information"
"Mikako's Israel Diary"
"Introduction to Hebrew"
Comic, "Breeze of Bristol—a story of George Muller" (Madoka Mako)
We are providing information which enriches the faith and life of Christians by keeping in touch with healing and testimonies of the living God. The Mikoe has published "Martyrdom" serialized in the Mikoe and "Letter from the Orphanage" is still being serialized and "Prayers were responded. Vol.1-5", "The Real Facts of The Davao Jail Incident: Missionary Jackie Hamill's Martyrdom."
The appearance of theRainbow between the Clouds's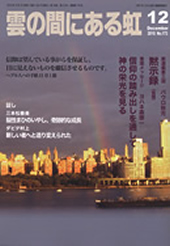 ●We publish and sell monthly magazines, books, and DVD's
*We are publishing a monthly magazine "Rainbow between the clouds"
<Opening Message> <Opening Essay> <Testimonies of healing>
Serials
"Women who are led by God, stand as pastors, evangelists, and missionaries!"
"Comic, Q & A by Jabez and Enoch"
"Practice of Praise," "Serial, Faith of women"
"Here goes a praise band! Gifts Diary"
"Let's go to Israel !"
"Praise the Lord! from the Rocky Mountians"
"We want to spread to the world, the blessing of the Gospel!"
"World Movie Information," "Cornerstone Photo Essay"
We publish, Obeying the voice of the Lord ,
Charismatic Declaration,Prophecy—Its reality and practice (by Paul Akimoto), Obeying the voice of the Lord ,
by women is mainly directed pastor, evangelist, stood as a missionary! , Blessing of that heals the sick and the blessing of being a disease, the end of the world,
Also we publish, Secret Sin, You can be happy now—Miracles of praise and thanksgiving (by Merlin Carothers)
We are producing original gospel songs (J-Gospel) which moves the heart of the people of Japan and the world. Through the CD's and DVD's we have already published, God has touched many people and they are being healed, released and saved.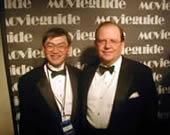 We have contacts with a movie director and a producer in Hollywood . And we are walking in faith toward the goal of production of an animation movie of about twenty six martys who died in Nagasaki